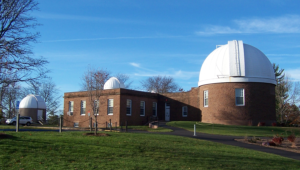 Public Observing at the Van Vleck Observatory
Hosted by volunteers from the Astronomical Society of Greater Hartford and sponsored by the Astronomy Department of Wesleyan University. Public observing is always free and open to everyone.
Join us for a look through the historic 20-inch refractor and other telescopes. All who come will have an opportunity to see through the eyepiece, weather permitting. We will be viewing prominent objects in the night sky such as the moon, globular clusters, planets, nebulas, or galaxies. The objects viewed will change each month, or even during your visit.
All are welcome.
If you would like to attend an observing event, please see the directions and important parking information at left. Starting time and other information for each date is also listed.

If the chart above is not up-to-date in your browser, click on it to get the current predictions.
Public observing sessions are only cancelled for severe weather conditions. Announcements will be posted under the observing schedule at left and in our yahoo e-group by 6:00 pm on the day of the session.
Note that should the weather not permit observing due to precipitation or heavy cloud cover, we will not open the telescopes.  However, we will still be on site to talk astronomy and telescope operation.  If you have a telescope and need support, you may bring it even if we cannot observe.  Our members can help walk you through setup and operation, even indoors.  
Join the ASGH_Events yahoo group to be notified of upcoming sessions and cancellations.  To join, go to http://tech.groups.yahoo.com/group/ASGH_Events/ OR send an empty email to asgh_events-subscribe@yahoogroups.com